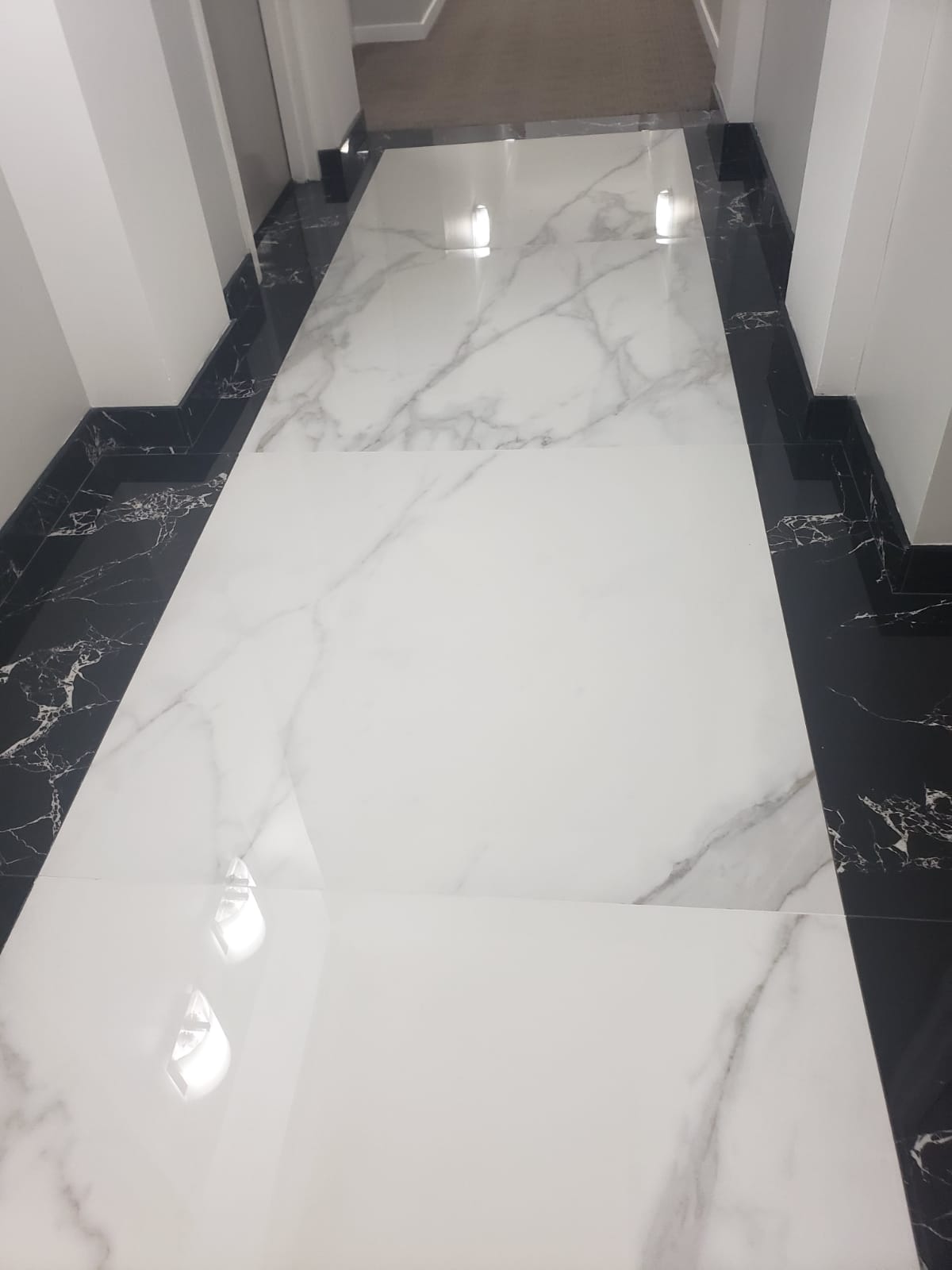 FLOORING CERTAINLY NOT AT BOTTOM OF THE LIST IS FLOORING
THOUGHTS SHOULD BE GIVEN OF COURSE TO COORDINATING WITH THE FINISH YOU ARE CONSIDERING, CONTRAST IS GOOD HERE. 
WE HAVE A DIFFERENT NUMBERS OF FLOORING MANUFACTURERS FROM WICH TO CHOOSE THE PERFECT PRODUCT AND APPEARANCE IMPORTANT THINGS TO CONSIDER ARE:
 HOW WILL IT STAND UP TO THE USE OF YOUR PROPERTY SEES DAYS IN AND DAYS OUT?

 
LOT'S OF REMODELING GOING ON AND CONTRACTOR WHEELING, SKIDING AND PIVOTTING CARTS AND DOLLIES IN AND OUT?

EASY TO CLEAN? CAN I EASILY REPLACE A DAMAGED TILE? CODE COMPLAINTS?

IS THIS ELEVATOR EXPOSED TO THE OUTSIDE WHERE WATER FROM RAIN OR SPRINKLER CAN BE TRACKED INTO THE CAR?

IS THERE A POOL CLOSE BY WITH POSSIBILITY OF WET PASSENGER USING THE ELEVATOR?
Oceana Condominium, a luxury waterfront condominium complex hired GPE Elevator cabs for a elevator cab renewal project. GPE Elevator cabs was a highly professional team, consistently responsive and easy to work with from start to finish. The material selection and design was easily created to match our vision. The design was glamorous and sophisticated, made of high quality materials. The project was completed as estimated and the team was extremely accommodating. After meeting with several elevator cab companies there is no doubt we out condominium made the best choice!
Angela Vayner
Oceana Drive
Arturo and his team are excellent. Fantastic work and twenty on to detail. We used them in a couple of our new developments and will continue on all future projects. Clean, precise and professional.  Look forward to working together again.
GPE Elevator Cabs are a professional company with good workers and great hands, know the details and nice to work with. Always on schedule. It was a pleasure to work with GPE on this project, the finished product was perfect.
Michael Weibaum
HAP Construction